Luxury amenities, world-class music, decadent food and drinks all surrounded by the unparalleled mountain views - the best way to attend Telluride Jazz Festival
Set your calendar reminders, Early Bird Patron Passes for the 2019 Telluride Jazz Festival will go on sale Wednesday, December 12, 2018 at 10:00 am (MT) and are available in limited quantities!
With a $200 savings on the regular-priced Patron Experience Pass, Early Bird Passes offer the highest value of all festival passes and are only available in extremely limited quantities. In addition, a portion of the ticket cost, $200, benefits the Telluride Society for Jazz and can be deducted on income taxes as a charitable contribution.
The Patron Experience bundles top-of-the-line amenities offering an elevated festival experience that's unmatched. Featuring an exclusive On-Stage Viewing Platform, Backstage Catered Meals, a Private Opening Concert, an enhanced Welcome Reception, Complimentary Bars, an Exclusive Lounge, Priority Festival Entry, Private Upscale Restrooms and more, the Patron Experience puts luxury first.
Newly Added CulinarY EXPERIENCE For 2019
The Welcome Reception is getting a upgrade! Telluride Jazz Festival has teamed up with One-To-One Mentoring to enhance the Welcome Reception by replacing the traditional kickoff event with exclusive access to the renowned "Taste of Telluride and Top Chef Competition" at the Peaks Resort in Mountain Village on Thursday, August 8, at 5 pm.
Patron pass-holders will be greeted to a culinary tour of Telluride featuring creative cuisine, libations and live music from festival artists. Throughout the evening, pass-holders will sample delights from a variety of restaurants and have a chance to interact with the premiere chefs in the Telluride area. The Top Chef Competition will highlight the reception as local chefs compete in a heated culinary show-down, alongside a Bartender Competition where mixologists will compete for the tastiest and most creative specialty cocktail after receiving a secret basket of ingredients. The reception will be followed by a private Opening Concert at the Sheridan Opera House.
Full details including food and drink menus of the new kickoff event will be announced in the upcoming months.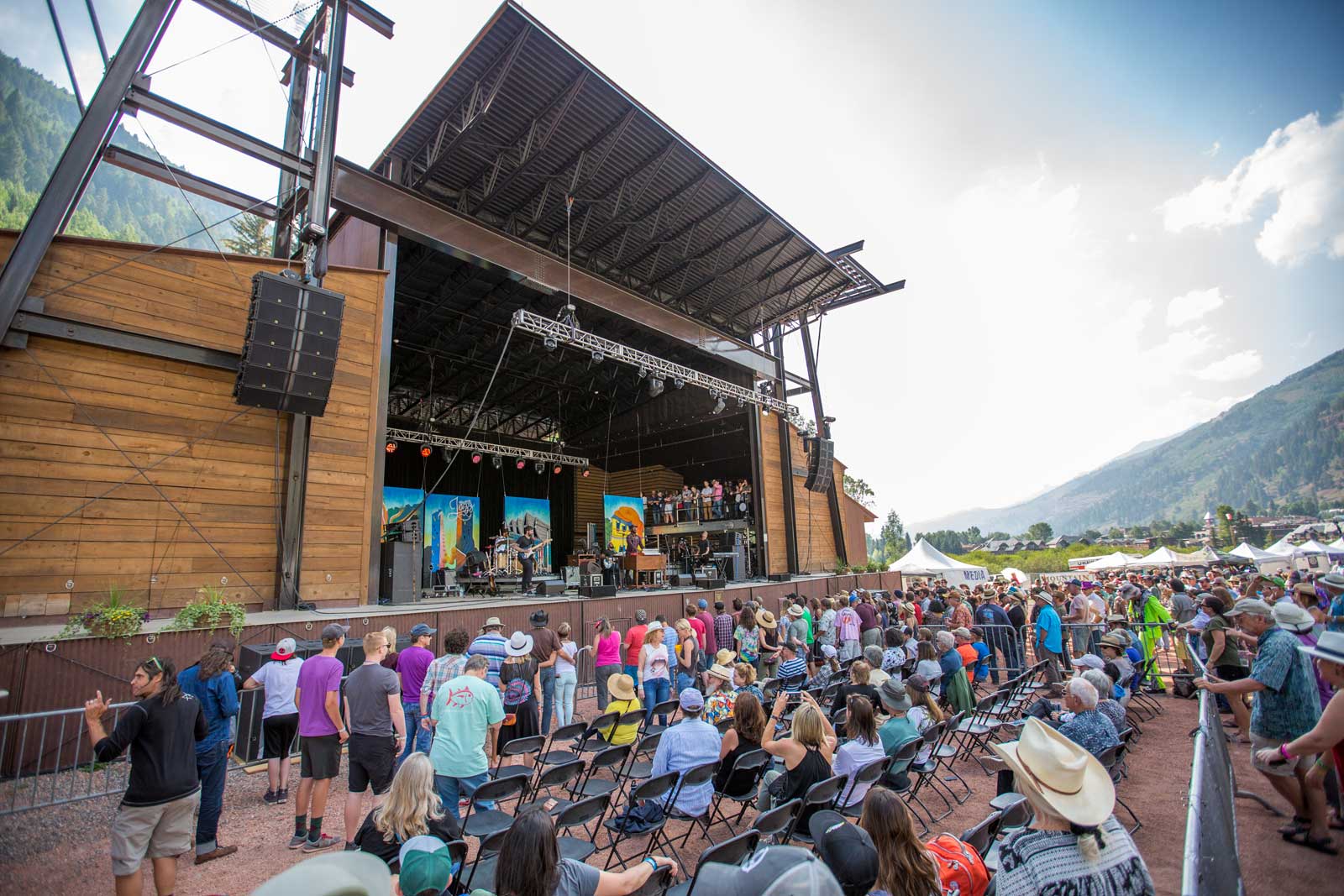 Patron Experience Amenities
On-Stage Viewing with Hosted Bar - Watch your favorite performance from the side of the Main Stage. Covered on-stage seating offers the most intimate festival experience possible. Experience a clear view of performers and the beautiful Town Park backdrop with an open bar featuring craft beer, wine and specialty cocktails within arms reach.
Wine and Dine with the artists Backstage - Patrons can enjoy special backstage access featuring catered meals by chef Josh Klein, a complimentary bar, covered dining area and upscale, patron restrooms. Full details including food and drink menus of the new kickoff event will be announced in the upcoming months.
Private Opening Concert - Kick off the festival with a private opening concert at the historic Sheridan Opera House on Thursday, August 8th. With a maximum capacity of 265 attendees, the historic Sheridan Opera House is the ideal venue for a truly warm and rustic welcome to the festival.
Opening Reception - Open the festival on Thursday, August 8th alongside fellow Patrons, the Telluride Society for Jazz Board Members and festival staff with exclusive access to the "Top Chef and Taste of Telluride" event. Full details including the Menu will be announced in Spring 2019.
Complimentary bar with craft beer, select wine and specialty cocktails - Enjoy an open bar all weekend long showcasing the best in craft beer, select wine and specialty cocktails at stage-view bars in the Patron Area.
Jazz After Dark Entry Both Nights - On Friday and Saturday nights, after the festival ends in Town Park, we continue the music with "Jazz After Dark" shows located in various venues throughout Telluride. The Patron Pass includes entry into all Jazz After Dark Shows and priority early entry
Eligible to purchase Safari Cabanas - Safari Cabanas are the ultimate way for groups to attend the Telluride Jazz Festival! Enjoy the Main Stage entertainment from the comfort of your own Colorado Yurt Cimarron Tent curated with luxurious conveniences and a concierge service. These specialty tents are outfitted with comfortable decor, a covered front porch, fire pit and relaxed seating for eight. Safari Cabanas are a great place for groups to spend the day or just call their home base in Telluride Town Park. For more info, click here.
Access to Patron/VIP Area - Enjoy the music from an exclusive, less crowded Patron/VIP Area inside the festival with uninterrupted stage views and a covered, heated lounge with relaxed seating. The Patron/VIP area also features yard games, fire pits and intimate pop-up shows.
Unobstructed Seated Viewing Area In Front of Stage - The VIP area offers a clear and up-close view of the stage featuring one of the most intimate concert experiences available.

Free Massage - Enjoy the benefits of free massages provided on-site in the Patron Area daily from 3:00 - 6:00 pm from our team of licensed practitioners. Take your festival experience to the next level! Relieve your pain, stress, and anxiety while increasing your relaxation and general wellness through the healing powers of massage therapy.
Patron Restrooms - Dedicated, upscale restrooms will be available in the VIP and Patron Area.
Patron and VIP Priority Check-In at Box Office - Skip the line and get straight to the fun with a dedicated check in.
Priority Entry - Patrons will receive early, priority entry into the Festival and Jazz After Dark shows.
Free entry to the Telluride Historical Museum - In 1961, the town of Telluride was designated a National Historic Landmark as one of the most important places associated with mining history in the United States. Learn about it's rich history with free Telluride Historical Museum admission throughout the festival.
Don't miss out, be one of the few to enjoy the unparalleled Telluride Jazz Festival Patron Experience. Early Bird Patron Experience Passes will be available in limited quantities Wednesday, December 12, 2018 at 10:00 am (MT) here.